HOME > HARIBITO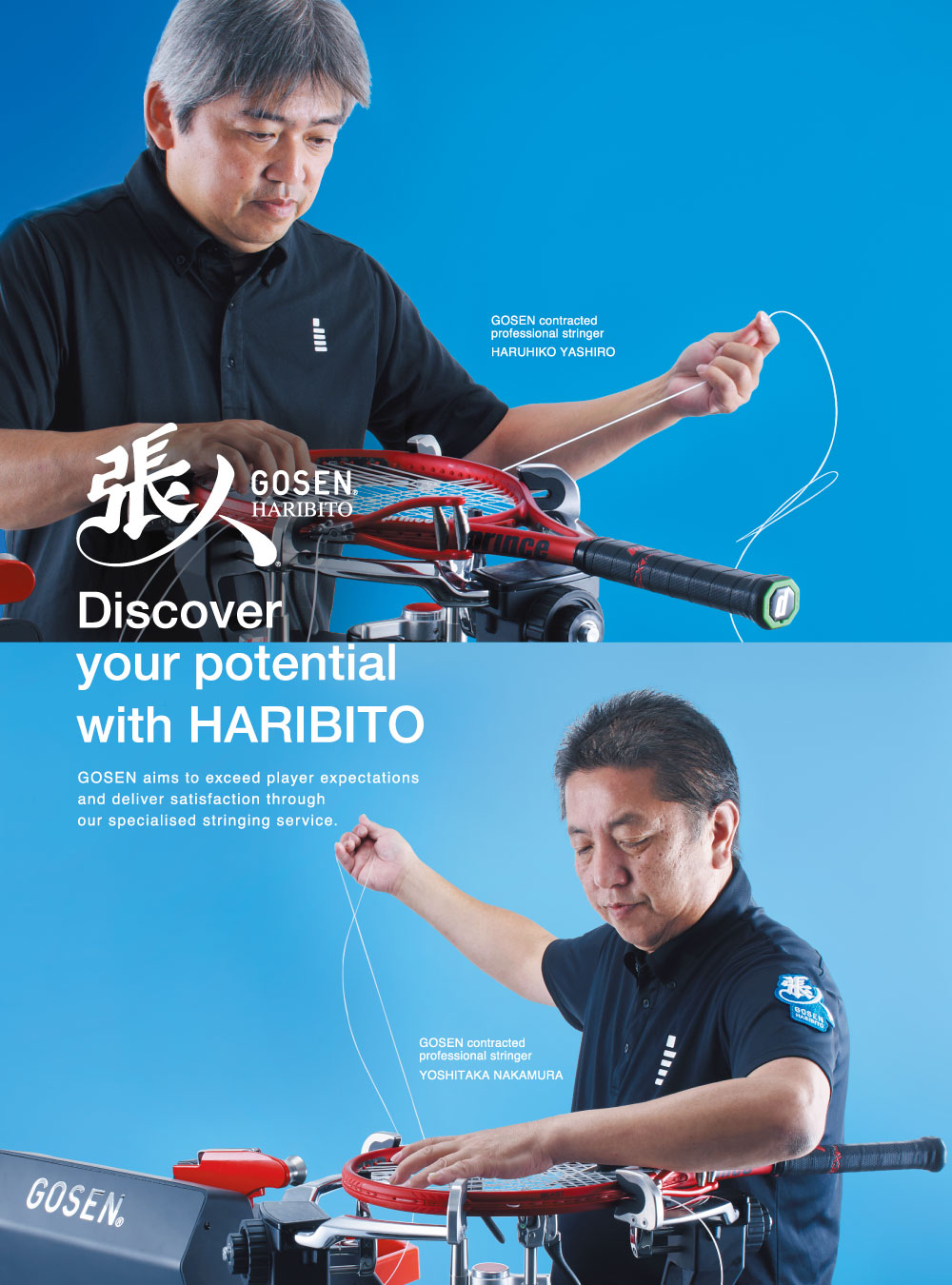 BACKGROUND OF GOSEN HARIBITO PROJECT
Our ultimate goal is to provide the most emotional impression for the audience and the players in the sport world.
GOSEN has been in the industry for more than 60 years and is the world's first manufacturer of the "synthetic string". Our historical roots and passion for racket strings are the key concepts that underline the HARIBITO Project.
For all players to perform at their highest potential, we believe that there are 3 essential elements that must be considered, namely: 1) Quality strings, 2) Accurate stringing machine, 3) Professional stringing skills.
GOSEN focuses on all of these elements by producing high quality strings, top grade computerised stringing machines and unique stringing patterns and HARIBITO techniques. This forms the HARIBITO PROJECT.
In Japan, the term HARIBITO can be closely related to as a "doctor of strings". A certified HARIBITO member, is a stringing specialist. They have in-depth knowledge about strings, qualified HARIBITO skills and is able to provide advice to help players in finding a suitable string and tension that matches their skills and abilities.
GOSEN's own "GOSEN STRINGING PATTERN" is used in major international tournaments. This pattern has been in use for decades in both tennis and badminton, and endorsed by professional coaches, players and managers around the world. The "GOSEN STRINGING PATTERN" is regularly reviewed and improved upon; based on current rackets in the market and feedback from users.
As professional stringers become qualified HARIBITO members, the "GOSEN STRINGING PATTERN" and HARIBITO SKILLS can be experienced by players around the world.
GOSEN holds regularly seminars to share the latest information and HARIBITO techniques to all participants GOSEN will continue to expand the HARIBITO PROJECT to create a new standard in the racket sports and stringing industry.
Strings
High quality strings for any type of player or shot.
GOSEN produces a range of high quality strings using their precision technology.
Machine
Top grade computerised stringing machine.
GOSEN supplies precise and efficient stringing machines which ensure effective stringing to sustain optimum performance.
Skills
Maintain the latest information and techniques related to strings and rackets.
GOSEN promotes and maintains their stringing techniques through seminars and license examinations.
GOSEN STRINGING PATTERN
The most suitable technique for stringing rackets in the modern era
This unique technique is widely supported and appreciated by both players and coaches around the world.
Advanced
Stringing
Technique
Simple stringing method
No deformation of racket frame
Even tension across the racket
The initial stringing tension is sustained for longer
A method that is continuously improved and adopted by stringers around the world
This world-renowned stringing pattern gets reviewed regularly by GOSEN and is continually improved to suit new rackets and strings.
ACTIVITIES OF HARIBITO
TENNIS
Stringing support for Japan's national team
DAVIS CUP (JAPAN TEAM)
FED CUP (JAPAN TEAM)
Professional championship stringing experience
Hana-cupid Japan Women's Open Tennis Championships
OSAKA MAYOR'S CUP WORLD SUPER JUNIOR
Vitro Seoul Open Challenger
Busan Open Challenger